Zeitview uses the payment processor Stripe to deliver all payments to US pilots. Pilots must create a Stripe account in order to receive payments for any mission.
International pilots will be paid through PayPal or directly from Zeitview if your country does not accept Paypal.
You can sign up for Stripe using the link in your pilot profile under Payment Information. You must complete all fields in order for your account to be activated. Your information will not be shared or used for anything else other than Zeitview payments and 1099 tax documents.
You will need to complete the Stripe setup in one instance. The page will time out if left unattended and any information submitted after the fact will not be saved. If you experience any issues during setup or need to start over, reach out to pilots@dronebase.com. If you experience any other issues within Stripe you can contact Stripe support at
support.stripe.com
.

PAYMENT SCHEDULE: The pay period is Tuesday - Monday. Funds are deposited into Stripe on Thursday. Stripe accounts set to transfer funds to the bank account on file will do so the following Monday. You can still use your funds directly from Stripe beginning Thursday.
**Only payments for completed missions will be deposited. A mission is considered complete when you receive an email confirmation stating that assets were approved and payment was sent.**
You will need to reference the date that you received the email confirmation to determine the pay period and when you will receive those funds.
EXAMPLE: All missions submitted and confirmation received between Tuesday the 1st and Monday, the 7th would be deposited to your bank on the following Monday the 14th but payments would be available in Stripe as soon as the 10th. See the example image below. The numbered days do not represent any current calendar dates.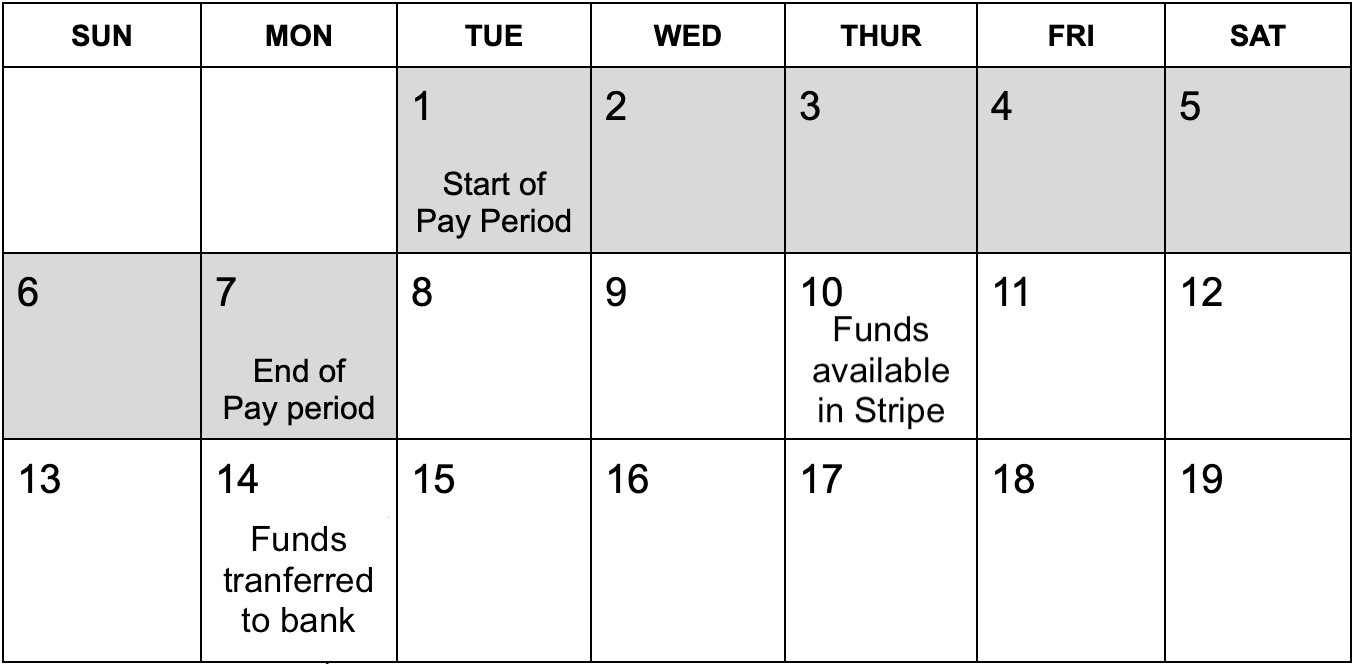 PAYMENT NOTIFICATIONS: *Automatic updates are not available in the Zeitview app at this time.*
You will be notified of asset approval and when payment is sent via email. Stripe will not reflect these updates.
Once funds become available in your Stripe account, you
will receive an
email notification from Zeitview saying payment is complete. You can then log in to your Stripe account and see the expected date funds will be available in your bank account.
PLEASE NOTE: All payments successfully processed by Stripe are final. If you experience issues with your bank information and/or deposits made to your bank, you will need to contact Stripe support or your bank. Zeitview will NOT resubmit any payments successfully processed by Stripe.