How can I tell if a drone unlock is required?
DJI's Fly Safe Geo Map will tell you if you are in a special "zone" which requires an unlock. Search for an address, and click on the area to populate a list of warnings. (Make sure to check off the Warning Zones and Enhanced Warning Zones in the area below the map to make sure that all unlock zones are included.)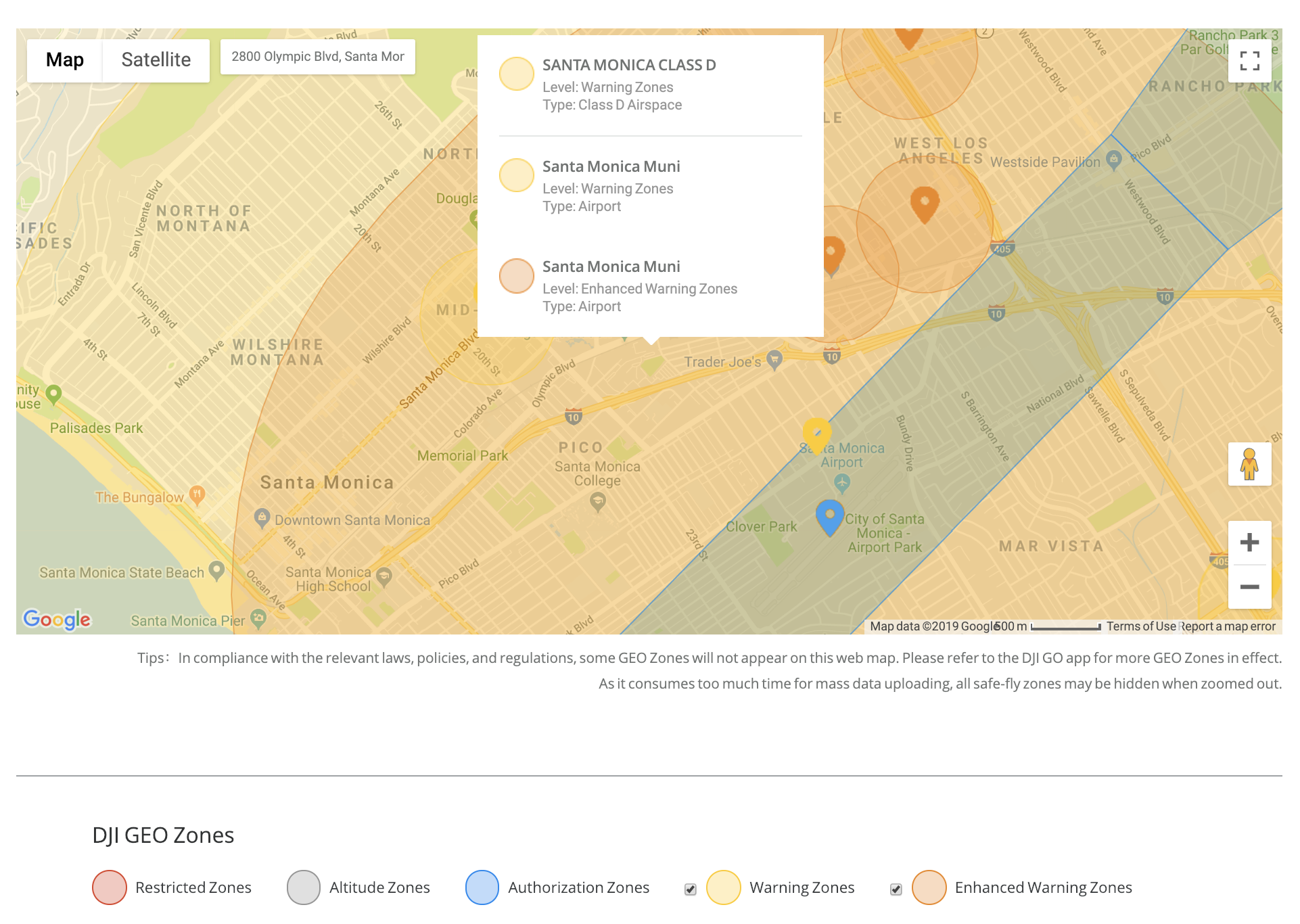 What do the different zones mean?
The red zone (Restricted) may be flown after a custom unlock is completed. A custom unlock requires proof that you have authorization to fly in an area be submitted to DJI before your drone will take off. After submitting a custom unlock to DJI, your request will be reviewed and they will determine if the request will be approved or denied. (Many restricted zones are in extremely dangerous locations to fly, such as airport runways or flight paths, and are therefore very difficult to receive approval for.)
The grey zone (Altitude) will have altitude restricted in a certain area. Mainly found around airport runways, these restrict flying altitude on the flight path of aircraft that are taking off or landing at those airports.
The blue zone (Authorization) may be flown after a self unlock or custom unlock is completed. This means that you should be able to unlock your drone after confirming that you understand the risks of flying in the area. Theoretically, you do not need to provide further proof of your authorization to fly. However, in practice, we have received feedback from some pilots who have stated that custom unlocks are required in these areas.
The yellow zones (Warning and Enhanced Warning) will present a warning upon attempting to take off in these areas. Confirmation that you take responsibility for flying in these zones will allow you to fly freely.
Self Unlock
Per DJI's website, authorization zones can be self unlocked while on-site or before your intended flight.
To unlock while on-site:
Open the DJI GO app while on-site and connected to your drone
When the flight restriction warning appears, tap "Yes"
Choose credit card or phone for verification
After verification, tap the confirm button to unlock the authorization zone
The unlocking license can be toggled on or off to fly in the authorization zone
To unlock from home:
Go to DJI's self unlock website (https://www.dji.com/flysafe/self-unlock)
Select your drone model
Search for the location of your flight
Click on the red, blue, or yellow pin that covers the zone you are trying to unlock
Enter your flight controller serial number

Connect to the Go 4 App with the controller and your drone
In the top, right corner tap on the 3 dots (ellipses) for General settings
Scroll to the bottom and tap About and the serial number is shown

Select the date of your flight and click submit (The unlock will begin at 12 am the day you choose and will continue for 3 days)
Choose credit card or phone for verification
If you used a phone number to authenticate, enter the number that you received via text to confirm the unlock.
Custom Unlock
A custom unlock must be performed on DJI's website via your browser (https://www.dji.com/flysafe/custom-unlock).
Similar to a self unlock, you must enter all the relevant information that DJI requests into your browser. This includes your name, drone type, serial number, and the purpose of your flight. You must also include proof of your authorization to fly in this airspace, such as your LAANC authorization confirmation, a COA, or any other documentation you can provide to prove your authorization to fly legally. After submitting this information, agree to the terms and conditions to complete your request. Upon approval, you should receive an emailed copy of the confirmation in your inbox.
Adding the Unlocking License (Self or custom unlock)
Connect to the Go 4 App with the controller and your drone
In the top, right corner click on the 3 dots (ellipses) for General settings
From this menu, select unlocking license
Tap app, then sync, then import to aircraft to add the latest unlocking license
Tap aircraft, then sync.. from this screen you can toggle the unlocking license on or off when you are on-site.
The unlocking license should be toggled on when you arrive in the restricted/authorization zone and off when you have completed your flight in that area.
Tips/Hints
Unlocking your drone from DJI's website can be done at any time. If you already have a flight plan with an expected date, it's best to apply for an unlock immediately. This can help avoid unfortunate incidents on-site, such as spotty internet that will not allow you connect to DJI to unlock your drone.
Some pilots have reported self unlocking their drones prior to a flight then not being able to take off upon arrival. If your intended flight is occurring within an authorization zone, you may still apply for a custom unlock. Essentially, a custom unlock should allow flight in both restricted zones and authorization zones. We have received reports, however, that self-unlocks are not guaranteed to allow for flight... even if they appear to have been approved while off-site. When in doubt, apply for a custom unlock (especially in areas of manual LAANC authorization).
Unlocking your drone in a geofenced area may cause some features to be unavailable. This includes way-point navigation and autonomous flight mapping software so be prepared to fly manually if necessary.
You should hear back about your custom unlock within an hour. If you have not, email flysafe@dji.com.
Feel free to watch and review if any part of this page appears unclear. (https://youtu.be/tBG0TD5M3w4)
Update 7/12/19
Legacy drones (which use the DJI GO app rather than DJI GO 4) are not able to pass their unlocking licenses to 3rd party flight apps such as DroneDeploy and Pix4D. DJI is aware of the issue but there is no ETA on a fix for it. The affected drones are:
Inspire 1
Phantom 3 series
These drones can unlock and fly while using the DJI GO app for free flight. However, they cannot be used for automated mapping missions (which require the use of 3rd party software) in restricted airspace as they will ground immediately after launching the app.
Please reach out to DJI for additional information.