About the partnership:
Zeitview has partnered with the FLIR Infrared Training Center (ITC) to provide exclusive discounts to Zeitview pilots for the sUAS Level 1 Thermography Certification.
https://courses.infraredtraining.com/index.cfm?action=registration.schedule&courseId=25
The course is designed to provide Part 107 pilots with the background, skills, and knowledge required to properly capture and interpret thermal images. The certification course includes topics focused on infrared science, thermal applications, safety, and proper drone camera settings.
Why attend:
If you have your Part 107, attending and completing the sUAS Level 1 Thermography Certification will open up opportunities for you to fly Zeitview Thermal Missions which will require this certification. Additionally, this certification will allow you to stand out from your local competition and provide higher-value, higher-priced flights and analysis to your own customers.
Zeitview is also working on exclusive discounts to DJI hardware such as the Matrice 210, Zenmuse XT2 640x512 radiometric thermal camera, etc. This has NOT been finalized.
Class Information:
You can find more information about the certificate and class schedules for the sUAS Level 1 Thermography Certification on the ITC website here:
https://courses.infraredtraining.com/index.cfm?action=registration.schedule&courseId=25
Note that this promotion does not include any other ITC courses at the moment. Classes fill up fast, so its best to signup and commit asap.
Once you complete your certification, please email us at flir@dronebase.com so we can validate in your Pilot Profile. In the subject line please put: ITC CERTIFICATE.
If you have previously completed and can verify your sUAS Level I Thermography Certification, please email us at flir@dronebase.com so we can validate. In the subject line please put: sUAS Level 1 Certificate Verification
This class is available to all Zeitview pilots with a Part 107 if you are US based. This class is also available to international students with their country specific UAS licenses/permits.
Promotion & Discount Information:
The current price for the Certificate is $1,995. Zeitview has a limited time 20% off promotion code that will be redeemable for all sUAS Level I Thermography courses until June 30, 2019. After this date, the discount will be 15% off.
20% off Promotion ending September 30, 2019
Code: DRONEBASE20
15% off after October 1, 2019
Code: DRONEBASE15
YOU MUST USE YOUR ZEITVIEW PILOT EMAIL WHEN SIGNING UP.
***The veteran discount is no longer available***
Hotel + Flight + Accommodation:
Zeitview and FLIR ITC are not providing any discounts on hotel, flight, and/or accommodations.
Course Purchase Instructions:
Once you decide which course and date you want to attend, you can begin the registration process. Your student email MUST match the email you use to sign into your Zeitview pilot account. This is used to validate that you have signed-up with Zeitview and are eligible for the discount. Failure to do so will result in being charged the full price.

You can enter the promotion code in the shopping cart: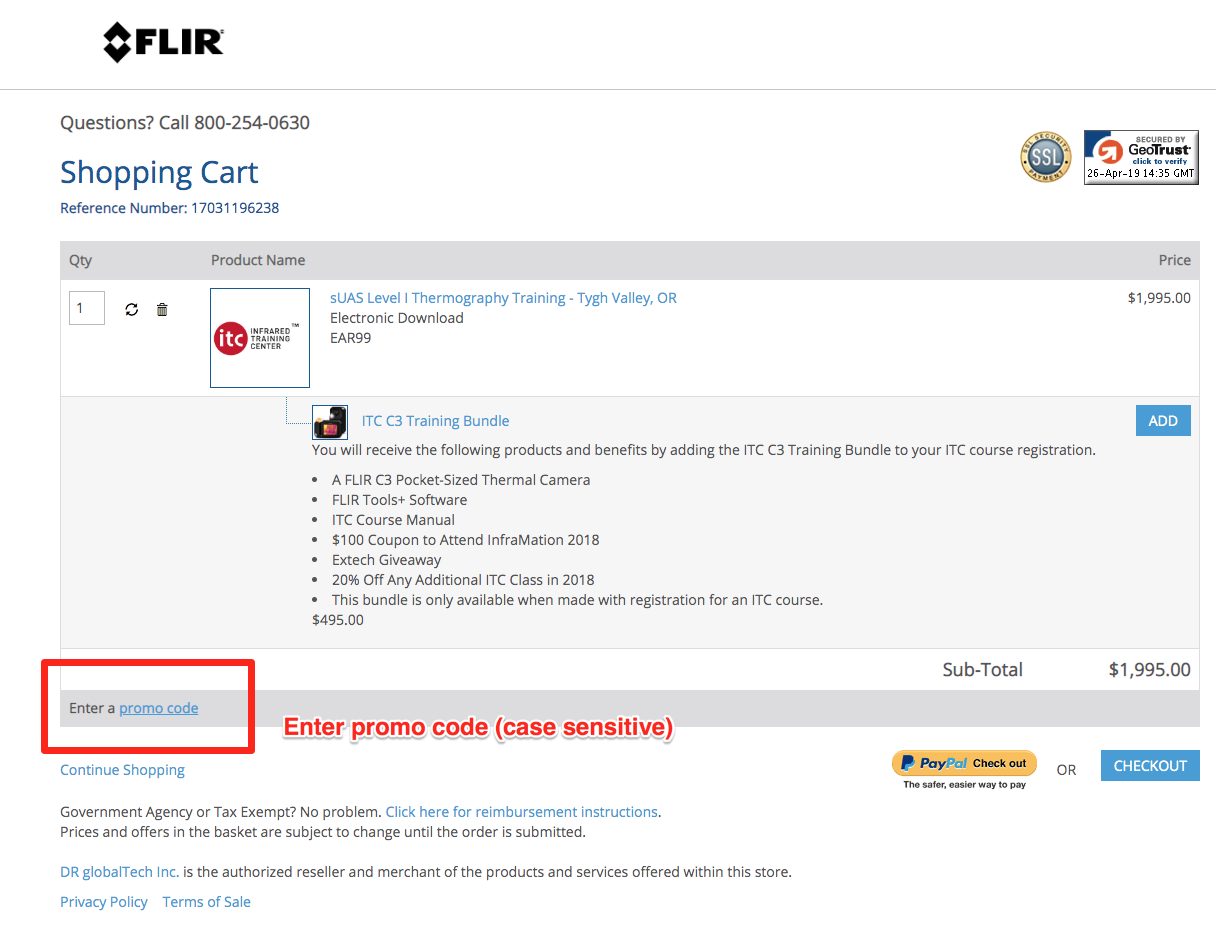 Post-Graduation + Future Hardware Requirements:
Students that pass the class will be required to provide their sUAS Level 1 Certification to Zeitview in order to be approved. It is Zeitview's intent to only allow pilots with this certification to fly on Thermal Missions in the future.
Once you have received your Certificate please email flir@dronebase.com with a subject line: sUAS Level 1 Certificate Verification. Please also update your Zeitview pilot profile and add this as a license and take a picture of it with your Zeitview pilot mobile app.

In order to capture quality thermal data, pilots will be required to use specific sensors like the Zenmuse XT and XT2 640x512 13mm 9 or 30hz cameras. Sensors below this standard do not provide enough resolution for data analysis. Look out for updates from us on discounts we may be able to offer to you soon.
Frequently Asked Questions:
Q1- Even with the discount, the price is still very expensive. Do you know how much I can make to justify an ROI?
A1- Unfortunately thermal flights are still relatively new. Our goal is that all pilots that fly thermal missions for Zeitview jobs will have this Certificate. It is important to keep in mind that this is also an investment in yourself and for you to build your own book of business. The next factor is the equipment cost. To get radiometric data for analysis, the minimum quality of a thermal sensor will typically be 640x512, which can be found in the FLIR / DJI XT1 or XT2 sensors. Unfortunately, the XT2 must be used on the m200 series so there is a higher equipment upfront cost. Zeitview is working on discounts, so stay tuned.
FLIR has provided a document to help pilots determine pricing and rates of return. It can be found here: Pricing Survey
In terms of potential payouts. Since more advanced equipment is needed, these flights will typically be half day and full day rates, well into the high hundreds of dollars if not thousands for capture. These advanced missions are treated much differently compared to our quick 10 image missions where the payouts are much lower. We are not asking for pilots to do analysis.
Q2- Do I need to have my Part 107 for this course?
A2- Yes
Q3- Should I sign up and hold a class spot if I am not 100% sure if I can attend?
A3- NO. Do not take a seat away from someone as these classes have limited space and are filling up fast. Please only sign up if you intend to attend.
Q4 - Does the Mavic with thermal capabilities work for your jobs?
A4 - Unfortunately, the sensor on the Mavic with thermal capabilities does not provide enough pixels to perform the radiometric analysis we need to do. Refer to Q1.